Blog Archive
Posted on February 20, 2015 by Alan Kelly
I am delighted to announce that Killea National School Templemore and Dualla National School, Cashel have both been allocated funding for an 80m2 Mainstream classroom. This is good news for the staff, pupils and teachers at both schools. 
Earlier this year I announced funding had been allocated for emergency works in four schools in Tipperary, the four schools were St. Mary's Junior Boys School Nenagh, SN Gort na Huaighe, Ballinahinch National School and Borrisokane Community College. 
Before Christmas I announced significant funding had been allocated for new builds at Carrig National School and Sacred Heart Roscrea. 
All of these funding announcements for schools in Tipperary shows the Labour Party's commitment to education in the county.
Permanent link | Categories:
Posted on February 17, 2015 by Alan Kelly
I welcome the announcement of two new policies to support smaller schools.  
The new policies will see improved changes to the staffing schedule and a voluntary protocol for future sustainability of one teacher schools with reducing enrolments.
This will assist many schools in Tipperary.  Small schools play a vital role in many parts of the county and are key to local communities. It is a vital piece of social infrastructure to rural communities and particularly in isolated areas. The new policies today will provide some improvement to the staffing levels of our smallest schools. These improvements recognise the challenges faced by small schools that are more than 8km from the nearest school type.
Permanent link | Categories:
Posted on February 13, 2015 by Alan Kelly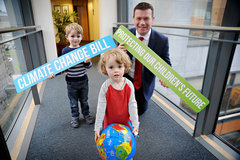 I am urging people to play their part in a national drive to tackle climate change, as new laws aimed at protecting the environment are set to come into force soon.
Tackling climate change so that future generations of people in Tipperary can live in a safer, cleaner environment is a critical issue.
It is vital that local people now work together to protect the environment in areas given that Ireland is bound by new low carbon rules for the very first time.
The Climate Change Bill - the first piece of legislation of its kind - continued to progress through the Dail this week.
Labour is acting now to protect the environment so that our children and future generations have a safe and sustainable future.
Permanent link | Categories:
Posted on February 02, 2015 by Alan Kelly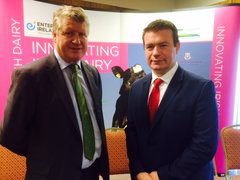 Congratulations to Arrabawn Co-op on a €35million innovation investment. This investment will help the dairy sector maximise post-quota opportunities will help support further growth at the co-op.
The overall investment will see a €25 million Dairy Processing Technology Centre (DPTC), supported by the Department of Jobs through Enterprise Ireland and the dairy industry partners including Arrabawn, at nearby University of Limerick. This will make a research and technology facility, manned by highly-skilled researchers, available to Arrabawn and the nine other co-ops to support the processors in achieving greater efficiencies.
 A further €10 million by Teagasc and the dairy industry shareholders in the expansion of the Moorepark Technology Ltd (MTL) pilot plant facility in Fermoy Co. Cork.  Both of these investments will offer significant research supports to support further growth at Arrabawn.
Permanent link | Categories:
Posted on February 02, 2015 by Alan Kelly
I can confirm that planning permission has been granted for significant works at Nenagh Hospital.  

On January 8, 2014 I announced €2.2m in funding for a new medical wing in Nenagh Hospital, planning permission has been granted for this building work.   The work will go to tender in the near future.  This is a complete new build and will contain 16 new modern single room units. No buildings will be demolished as part of this extension. There will also be a new day room added as part of the build. The project is scalable, so it can increased in size in the future if necessary and will be completed by 2015.
Permanent link | Categories:
Posted on January 29, 2015 by Alan Kelly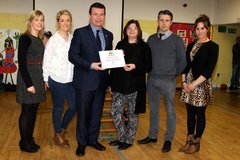 I was delighted to present a Digital School of Distinction Award to St. Mary's Convent Primary School, Nenagh yeseterday evening. I am pictured with Ciara Lewis, Lorraine McLoone, Pamela O'Brien, (Board of Management), Peader O'Dwyer (Principal) and Leanne Lynch
Permanent link | Categories:
Posted on January 14, 2015 by Alan Kelly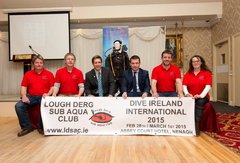 Last night I launched Dive Ireland 2015 in the Abbey Court Hotel.
It is a wonderful tribute and testament to the strength of Lough Derg Sub Aqua & Search & Rescue and the ability of its members that they successfully pitched for and were awarded the opportunity to host Dive Ireland 2015.
Allowing that there are 80 + Dive clubs in Ireland and Northern Ireland, and that their delegates and representatives will attend the A.G.M., as well as the Diving Officers and Training Of...ficers meeting, we are looking forward to 1500 / 2000 visitors over the Dive Ireland Weekend and it will be a wonderful boost to the local economy and a fantastic opportunity to show case Nenagh.
Permanent link | Categories:
Posted on January 12, 2015 by Alan Kelly
Work begins today to bring gas to Nenagh. Phase 1 will bring gas to the major user in the town - Arrabawn. The laying of pipes will start this morning, with work starting at Stafford Street with a number of crews working in the area. As the saying goes you can't make an omellete without breaking eggs, so there will some disruption over the coming weeks.
I worked tirelessly to make this happen, it was the single most important project I wanted to deliver for Nenagh. It gives Nenagh huge capacity and fantastic opportunities that it never saw before.
Permanent link | Categories:
Posted on December 18, 2014 by Alan Kelly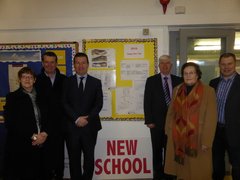 I am absolutely thrilled to announce that funding has been allocated for new builds Carrig National School, Ballycommon and Sacred Heart Convent, Roscrea.    I have no doubt whatsoever that it will be welcomed by pupils, staff, parents and Board of Management at the schools.   I have had many meetings with Minister Jan O'Sullivan and sent many letters  to the Department of Education in relation to the schools, and have visited the schools to meeting the staff and pupils.
Permanent link | Categories:
Posted on December 01, 2014 by Alan Kelly
I welcome the announcement by the Department of Health that seven projects in Tipperary have been allocated €77,495 from the National Lottery. 
Minister Kelly said "this is very great news for all seven groups, and will make a big difference to them.  The funding can cover different items for example the replacement of windows or a contribution to an organisation for a bus for their clients. 
The Department of Health has a National Lottery Discretionary fund in place which provides once-off grants to organisations, providing a range of health related services. The seven Tipperary groups are Clonmel Community Mothers Prgramme, St Cronan's Association in Roscrea, Elm Tree Communities, Cappawhite Community Council, Arthritis Ireland Cashel branch, Vee Valley Day Care Center and Camphill Grangemockler.
Permanent link | Categories: