Blog Archive
Posted on May 11, 2015 by Alan Kelly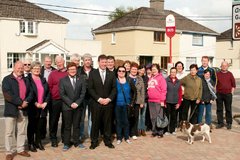 I have today announced funding for the provision of four new bus shelters for Tipperary transport users.
The villages of Bansha, Limerick Junction and Monard will see the provision of new shelters following an allocation of €80,000 for Tipperary County Council. The funding comes from a financial package secured for such shelters by myself prior to leaving the role of Minister for Public Transport. The National Transport Authority has written to Tipperary County Council informing them of the availability of funding.
I met numerous people and groups who requested the provision of such shelters for bus services going through these villages.
Permanent link | Categories:
Posted on May 11, 2015 by Alan Kelly
This morning I have announced €382,000 in funding for Tipperary rural water schemes. The funding has been granted to Tipperary County Council under the Department's Rural Water Programme which sets aside funding for upgrading and upkeep of group water schemes in rural areas.
22 group water schemes across the county are eligible to gain from funding under the upgrading schemes and water conservation measures while a further five schemes will see works to improve water and was...tewater quality.
Permanent link | Categories:
Posted on May 04, 2015 by Alan Kelly
I have announced the approval of over €7 million worth of public house building for County Tipperary.  The news will create an estimated 70 jobs throughout the county and is part of the first phase of housing investment for the county which will see approximately €57 million invested in various housing supports for Tipperary. The Department of Environment are currently assessing a number of building projects submitted from Tipperary County Council with further investment expected to be announced later in the year. The move is part of a construction kick-off where I announced the commencement of over 100 social housing projects throughout the country.
Permanent link | Categories:
Posted on April 27, 2015 by Alan Kelly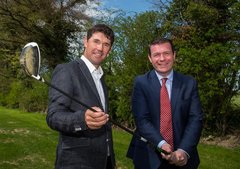 On Thursday last I launched the €3.7million Sportslab for LIT Tipperary.   The new centre at the Thurles campus is set to become an international centre of excellence in sports strength and conditioning.
Through a combination of high-tech equipment and lecture staff expertise, the facility will be the most elite centre in Ireland for sports strength and conditioning, catering for 500 under and post graduate students each year.
Permanent link | Categories:
Posted on April 22, 2015 by Alan Kelly
A brand new Primary Care Centre has been approved for Carrick on Suir this morning.
Construction on the new facility set to get underway early next year and will be completed by late 2016 or early 2017.
The new centre will be situated at Pill Road and will house GP and community nursing teams. The services will include GP Out of Hours Service, Occupational Therapy, Physiotherapy, Social Work, Speech & Language Therapy, Home Help, Dental Services, Nutritional and Dietician S...ervices, Psychology & Counselling Services, Mental Health Services and Ambulance Services.
Permanent link | Categories:
Posted on April 16, 2015 by Alan Kelly
I announced this fund to aid the development of amenities around Lough Derg and it has helped develop a number of projects across Tipperary totalling €665,0000. 
The following are the projects:
Lough Derg Stimulus Fund 2014 – 2015

Tipperary County Council Projects

Description of Activities

Lakeside park works & Swipe card access for toilet and shower block

Playground site & amenity area improvement works

Dromineer Lakeside Amenity Area

Improvement to road surfaces, car parking & walking surfaces

Millennium Cross Amenity Area

Car park and drainage works, Interpretive Panel & Walkway improvements

Improvements to walking route from Graves of the Leinstermen to Tountinna; Repair works on access road to amenity area/summit & Interpretive Panel 

Portroe Lookout Discovery Point & Trailhead Design

Feasibility study, architect designs for a discovery point & trailhead

Lough Derg Signage Strategy

Permanent link | Categories:

Posted on April 15, 2015 by Alan Kelly

I have today announced the creation of 40 new, high grade jobs in Thurles, Co. Tipperary as part of wider plans to develop a major green energy hub in the county.

The new jobs - hiring for which will begin in Q4 of this year - will be created at Premier Green Energy (PGE), which is located on the site of the former Thurles Sugar Factory and is the brainchild of Tom Comerford from Holycross who I have been working with on this for over three years.

Permanent link | Categories:

Posted on April 02, 2015 by Alan Kelly

I have today announced a review of the Building Control (Amendment) Regulations 2014 (S.I. No. 9 of 2014).

The new Regulations commenced in March last year and the Department is now initiating a review, as the regulations have now been operational for 12 months. The review will focus particularly on the cost burden involved for one-off houses, including self-build, and extensions to existing dwellings.

Permanent link | Categories:

Posted on April 02, 2015 by Alan Kelly

I welcome the announcement last week of the sanctioning of a further 250 new Garda recruits by Minister Brendan Howlin.

A total of 550 Gardaí will have been recruited by this Government between September 2014 and 2015. This is in addition to the €27.5 million invested in new Garda vehicles between 2012 and 2014, marking a massive increase on the €4.8 million provided for in Budgets 2009-2011.

The latest 370 new Garda vehicles have come on stream since the start of this year. This announcement also comes as extremely positive news for the town of Templemore. 

Permanent link | Categories:

Posted on March 31, 2015 by Alan Kelly

I have today announced over €57 million in funding for County Tipperary that will significantly reduce the housing waiting list to 2015.

As a result, the housing list in Tipperary is set to reduce by over 40% to 2017.  The funding will see the refurbishment of 51 vacant social housing units in Tipperary this year as well as starting building projects in Gortnahoe, Cloughjordan, Templemore and Thurles.

A total of 832 housing units will be built, bought or leased in Tipperary for social housing between now and 2017.

Permanent link | Categories: