Funding for Two Schools in Tipperary
Posted by Alan Kelly on December 18, 2014 at 11:53 AM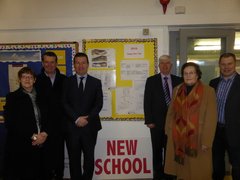 I am absolutely thrilled to announce that funding has been allocated for new builds Carrig National School, Ballycommon and Sacred Heart Convent, Roscrea.    I have no doubt whatsoever that it will be welcomed by pupils, staff, parents and Board of Management at the schools.   I have had many meetings with Minister Jan O'Sullivan and sent many letters  to the Department of Education in relation to the schools, and have visited the schools to meeting the staff and pupils.
The project at Carrig National School consists of a two store extension of 1500 m2  to provide an eight classroom school The protected structure on the site is being retained and this together with the prefabs will provide accommodation when the construction is taking place.  The project at the Sacred Heart Primary School in Roscrea consists of the demolition of existing school and prefabs, and provision of a twelve classrooms school.  Temporary accommodation will be provided on site during the construction.   
Since Minister O'Sullivan was appointed to the Department of Education & Skills she  made clear that the Government needed  to find the funding to advance projects where school buildings are in poor condition. as well as those which have been required purely to accommodate demographic growth. Sixteen new projects have been announced across the country,  I am delighted that Carrig NS, Nenagh and Sacred Heart Convent, Roscrea are two of those sixteen projects.
70 projects including the two Tipperary schools are now included in the five year plan.  All of these projects have proceeded through the planning process, and are at a stage where they are ready to proceed to tender, and to construction during 2015.
Photo:  Kate Delaney, Chairman of the Board of Management John Fitzpatrick, School Principal John Devitt, Nora Loughnane and Shane Lee.
Permanent link | Categories: