Blog Archive
Posted on March 11, 2015 by Alan Kelly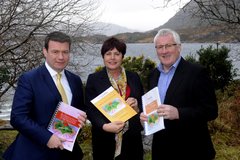 I have announced a €10.1million rural development fund for Tipperary.
The funding forms part of the Government's €250 million funding for the Leader element of the rural development programme.
LEADER funding will be used to support sustainable economic development projects for rural communities ranging from tourism, agri-food and other business activities.  These money will be targeted at tackling social inclusion, rural isolation as well as increasing the capacity of rural communities to participate in economic development. The exact nature of the projects chosen will be based on ideas that emerge from the communities themselves. An expression of interests process will begin shortly. 
Permanent link | Categories: