About Alan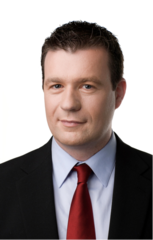 Alan is from the small village of Portroe, by Lough Derg in County Tipperary.
He is son Tom and Nan Kelly – his father worked in the Ferenka factory in Limerick when it closed in the 1970s before becoming a road worker for the county council. His mother Nan is active in almost every community organisation in the parish.
He is married to Regina O'Connor from Waterville, Co. Kerry. Two children, Aoibhe who is 5 and Senan is 3.
He was educated in Portroe National School and Nenagh CBS, before going on at 16 years of age to study English and History  in UCC, including a masters in politics.  He Spent his summers working in a local meat factory to see his way through college.
He gained an MBS in eCommerce in UCD and went on to become eBusiness manager in Failte Ireland.
In July 2007 he was elected on the first count on the Agriculture Panel to Seanad Eireann In September that year he was appointed Party Spokesperson on Tourism and Seanad Spokesperson on Finance and Local Government In July 2008 he was selectedf to contest the European Elections for Munster/Ireland South 
In 2009 He was elected to the European Parliament for Ireland
February 2011 he was elected to the 31st Dail.  The same year he was appointed Minister of State for Public & Commuter Transport - Department of Transport, Tourism & Sport 
4 July 2014 he was elected Deputy Leader of the Labour Party
11 July 2014 he was elected Minister for the Environment, Community & Local Government
26 February 2016 he was elected to the 32nd Dail.