€10.1 Million for Rural Development in Tipperary
Posted by Alan Kelly on March 11, 2015 at 12:58 PM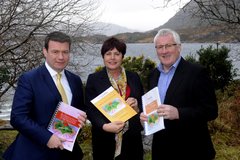 I have announced a €10.1million rural development fund for Tipperary.
The funding forms part of the Government's €250 million funding for the Leader element of the rural development programme.
LEADER funding will be used to support sustainable economic development projects for rural communities ranging from tourism, agri-food and other business activities.  These money will be targeted at tackling social inclusion, rural isolation as well as increasing the capacity of rural communities to participate in economic development. The exact nature of the projects chosen will be based on ideas that emerge from the communities themselves. An expression of interests process will begin shortly. 
LEADER is a vital lifeline for many rural communities in Tipperary. These substantial financial resources allocated to each county for the delivery of LEADER will support the continued sustainable development of rural communities all over Ireland in the coming years. I am determined to address issues of rural decline and I am confident that the 2014-2020 programme will be just as successful as the 2007-2013 programme which has seen funding going to 8698 enterprises that have supported the creation of 4084 jobs since 2009. I am aware of many excellent community facilities and amenities that LEADER support has facilitated and improved all over the country supporting social inclusion and community participation in very difficult times.  I also believe the on-going work at a local level to ensure more coordination will serve only to improve the impact of LEADER funding in rural communities and ensure that rural Ireland is given the support it needs and deserves.
Permanent link | Categories: