40 Jobs for Thurles
Posted by Alan Kelly on April 15, 2015 at 10:11 AM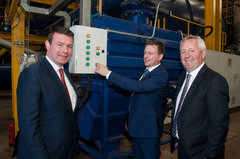 I have today announced the creation of 40 new, high grade jobs in Thurles, Co. Tipperary as part of wider plans to develop a major green energy hub in the county.
The new jobs - hiring for which will begin in Q4 of this year - will be created at Premier Green Energy (PGE), which is located on the site of the former Thurles Sugar Factory and is the brainchild of Tom Comerford from Holycross who I have been working with on this for over three years.
The jobs will involve engineering posts and be assigned to activities related to applied research for third level institutes and industrial partners arising from PGE's ongoing association with the Technology Centre for Biorefining and Bioenergy (TCBB) - an amalgam of research facilities in green energy at third level universities across the country - as well as the company's deployment of its own developed technology.
The announcement follows a major exhibition on Thursday last at PGE's Thurles base of the latest ground breaking environmental technologies that function in the green energy sector, organised by the TCBB. The event was attended by 200 industry representatives and green energy research experts drawn from as far afield as China and South Korea.
This is a very positive announcement for Thurles and even more significant when these jobs are being created by a local company which has a huge commitment to this area. I believe that this has potential to be the beginning of something really significant in terms of jobs for the Thurles area.
I have long been a supporter of sustainable economic development projects for rural communities as a bulwark against rural decline and what PGE are seeking to do falls exactly in line with that and I look forward to continue working with them into the future to ensure their ambitious plans are realised in the interest of jobs there and, indeed, the wider Thurles area.
Permanent link | Categories: