Blog Categories
Entries matching the category "minister%20alan%20kelly"
Posted on December 20, 2010 by Alan Kelly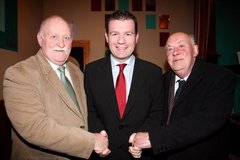 Friday, December 17th will always be a proud datte for me as I fulfilled a dream of becoming the Labour party's Dail General Election candidate. A large crowd attended the Convention in The Rag, Thurles despite the terrible weather conditions. It was a very special night for myself and my family who have been involved in the Labour party for many years. I was especially pleased to see so many new faces at the event who want a change and I'm delighted that they see me as the avenue to that change in North Tipperary. I was nominated to run by Ger Lewis from Nenagh. Ger is one of the most popular Labour members I have ever met. Last year he along with his brother Frank were gold medal winners for their contribution to the Labour party. My Party Leader Eamon Gilmore is a good friend of his. His electoral knowledge is fantastic and he has been a great friend of mine for many years. Michael Shanhan is a good old friend of mine from Roscrea, whose father Tommy Shanahan was a long time Councillor for the party in that area. I was delighted to have the calibe of these two great individuals to propose and second me.
Permanent link | Categories: Alan Kelly • Tipperary North