Becoming Minister For Public Transport & Commuter Affairs
Posted by Alan Kelly on March 11, 2011 at 10:20 PM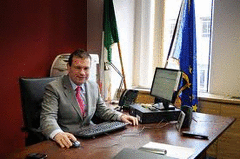 I got a phone call early on Thursday March 10th to ask if I would make my way to Government Buildings as the Tanaiste wished to speak to me. I had enjoyed a great day previous as it was my first day in the Dail as a sitting TD. I got in there as quickly as possible and met Sean Sherlock who had been asked to come in as well.
Each of us then went to meet the Tanaiste, Eamon Gilmore. I was asked by him to become Minister for State at the Department of Transport, Tourism and Sport with special responsibility for Public Transport and Commuter Affairs. I was thrilled to be chosen. Eamon gave me great words of encouragement and a few tips! It was a privilege to be picked and an honour. Word quickly came out who my colleagues would be and while I was delighted for them, I also thought about all my colleagues who would equally have made fine appointees.
I am working in this Department with Leo Varadkar and Michael Ring so hopefully we'll be able to get down to business straight away and deliver for the Government and the country.
Permanent link | Categories: Minister Alan Kelly