Peter Ryan
Posted by Alan Kelly on September 09, 2018 at 10:09 AM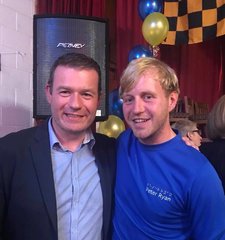 Great night last night in Drombane with local hero Peter Ryan and his cycling partner and friend Sean Hahessy who celebrated being the first tandem cyclists to ever complete the 2150 KM non-stop cycle race around the whole of Ireland.
Peter who began losing his sight when he was 20 and Sean did this massive endurance cycle in 5 days to raise funds for two local Tipperary families who are very much in need of support; the Doran and Gleeson Families.
I know Peter. He is a grea...t guy who in his spare time gives talks to schools and groups about disabilities and his own unique story. After he recovers from this test he will return to training intensely and preparing for the 2020 Paralympics in Tokyo, Japan.
Last night the massive crowd acknowledged the achievement of Peter and Sean and in particular their 10 person back up team without whom they couldn't have achieved this.
Please support him by if you can by going to www.dorangleesonfund.ie or go to Tipp Tandem Facebook page.
Permanent link | Categories: