New St Conlons 50 Bed Nursing Home To Be Located Beside Nenagh Hospital
Posted by Alan Kelly on August 08, 2017 at 09:43 AM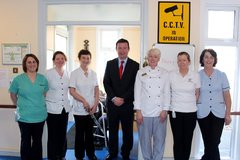 I'm absolutely delighted that this state of the art 50 bed facility which I announced €9 million funding for while a Government Minister in January last year will be built beside Nenagh Hospital. > > The HSE have just secured a 3.5 acre site beside the hospital. I want to thank them for their tireless work and perseverance in delivering this site. > > This new facility will not just double the bed capacity of St. Conlon's but will also provide a range of other services including badly needed respite and rehabilitation beds and facilities. > > It is absolutely necessary that this purpose built facility advances over the coming years in order to meet HIQA requirements.
It's proximity to the Hospital will greatly benefit the residents of the Nursing Home with the co-location allowing for patient treatments more seamlessly. > > St. Conlon's Home is a great facility with wonderful staff. I have had much personal experience of this myself. A number of years ago, we had a fight to save the current facility and we did through extra funding and staff being provided. Now we will have a state of the art, purpose built facility in the perfect location in Nenagh that will benefit people for decades to come. The project will go to planning and design stage next.
Furthermore, the current St. Conlon's road site in the centre of the town will remain in HSE hands and I understand there is much demand and discussion regarding using it in the future to provide better mental health services in the North Tipperary area'.
I am pictured with St Conlon's staff pictured  last year after the announcement of the €9m funding for the new St. Conlon's were Caroline Carroll, Ita Ryan, Aine Quillinan, Mary Howard and Margaret Seymour.
Permanent link | Categories: