Petition calling on the Constituency Commission to reassign the areas of North Tipperary from the Offaly constituency back into Tipperary before the next General Election
Posted by Alan Kelly on December 05, 2016 at 11:40 AM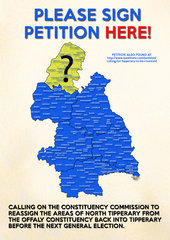 I am calling on every one in Tipperary to sign this petition before January 6, 2017, the petition will then be sent as a submission to the constituency commission.  The countdown has now commenced to the next boundary review report which should be completed by Summer 2017. We need to make sure that the electoral commission get a very clear understanding that breaking county boundaries is not acceptable, particularly for large counties like Tipperary.
Earlier this year over 10,000 people from North Tipperary were forced to vote in the Offaly constituency in the General Election.  This is a decision that they were not consulted on enough and which flies in the face of common sense considering they're represented locally on Tipperary County Council. 
Locals in Redwood, Rathcabban, Lorrha West, Lorrha East, Riverstown, Carrig, Clohaskin, Aglishcloghane, Terryglass, Uskane, Ballingarry, Finnoe, Kilbarron, Mertonhall, Ballylusky, Cloghprior, Ardcrony, Knigh, Monsea, Ballygibbon, Ballymackey, Borrisokane, Cloughjordan and Graigue are now voting in a constituency to which they have no attachment and I would ask all of the approximately 10,000 people here in particular to sign this petition and make their voice heard. People feel completely disenfranchised having to vote in Tipperary for local elections and then in Offaly for general elections.
People can sign the petition either on line at
http://www.ipetitions.com/petition/calling-for-tipperary-to-be-reunited
 or call into my office at 1 Summerhill, Nenagh where a hard copy of the
petition
can be signed. From next weekend there will be copies of the
petition
in businesses across the county so that as many people as possible can sign them. I would ask people in the affected area of Tipperary in particular to help me get the message across through this
petition
to the constituency boundary commission.
Permanent link | Categories: