First Data Visit Nenagh To Update on Project
Posted by Alan Kelly on November 14, 2016 at 11:48 AM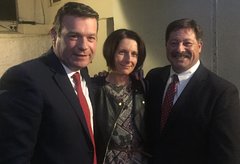 I was delighted to accompany First Data executives to Nenagh last week as they met with the local authority and local businesses to update them on their plans for their new and exciting research and development centre in the town.

The company had a large team in Ireland last week led by their CAO Tom Higgins. Speaking to the local chamber of commerce he confirmed that work is well underway in relation to the move and that the company is aiming to commence the recruitment process for their centre very soon. A separate First Data team spent time in Mid West visiting local colleges last week.

The work on the site will commence early in January once all assessments and tendering are concluded and it's aimed to have the building and full site ready by the summer with some employees on site by the the third quarter of 2016. It is hoped many of their future employees will be local to the area or family members working elsewhere in Ireland or abroad wishing to return home.

I was delighted to spend a number of days meeting with First Data executives last week and I'm thrilled with the progress being made.
Permanent link | Categories: