Jobs Boost for Cashel
Posted by Alan Kelly on July 31, 2015 at 12:47 PM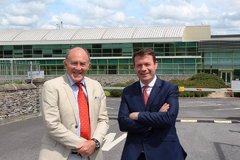 Good news this morning with the announcement of up to 300 jobs in Cashel. World-leading pharmaceutical company, Amneal, have today announced the creation of between 250-300 jobs.
The company has purchased the old Cordis Site in Cashel which has been vacant since 2011. The news follows confirmation of the sale of the site by Solidus.
...
Having met with Solidus on several occasions and assisted in the completion of the sale, I am delighted that this day has come. Tipperary has a huge deal to offer multinational companies like Amneal and I look forward to assisting them as they set up their Cashel site. Access to talent and good infrastructure are vital for investments of this size – Amneal will find both here in Tipperary.
The news will be a great boost to the county and the Cashel in general which will see the site dedicated to R&D and production of metered dose and dry powder inhalers (MDIs and DPIs) as well as biosimilars – all high-end specialty medications. In other words, world-class products being made and produced in the county.
I look forward to working with Amneal to protect local jobs and to ensure that Cashel and surrounding areas will benefit economically from this investment.
I am pictured outside the site in Cashel with former ambassador Joe Hayes.
Permanent link | Categories: