Funding for a Long Awaited New Fire Station in Templemore
Posted by Alan Kelly on June 08, 2015 at 10:08 AM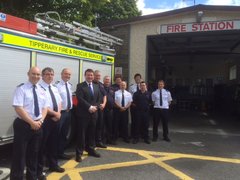 This morning I announced funding for a long awaited new fire station in Templemore.
I have a huge affinity with the fire service so I was delighted to visit the fire service team in Templemore today to announce funding for a new fire station. They have waited way too long for this announcement. The current fire station was built in the 1960s and they desperately needed a new one which I'm delighted will go to tender now.
I am pictured at the fire station this morning with Murta...gh Crawford (Assistant Fire Officer), Ray O'Leary (Acting Chief Fire Officer), John Shinners (Senior Assistant Chief Fire Officer), Michael Davern (firefighter), Kieran Galvin (Sub Officer), Eddie Scully (Firefighter), John O'Meara (Station Officer), Eddie Ryan (Senior Assistant Chief Fire Officer), James Devanney (Firefighter) and Paul Gallagher (Assistant Chief Fire Officer).
Permanent link | Categories: