Announcement of Funding for Clonmore National School
Posted by Alan Kelly on May 20, 2015 at 11:08 AM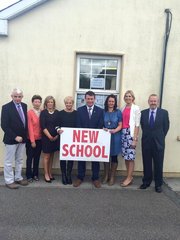 Today I announced  that Clonmore National School  has been allocated funding for major renovations/extension at the school.
The school has been approved for two mainstream classrooms, refurbishment costs to include new partitions, electrical and mechanical upgrade, dry lining where necessary and wheelchair access and prefab removal 
I am absolutely thrilled to announce this news for the school, I have no doubt whatsoever that it will be welcomed by pupils, staff, parents, Chairperson of the Board of Management Pat Murray and Board of Management at the school.   I have had many meetings with Minister Jan O'Sullivan and sent many letters  to the Department of Education in relation to the school.
This is a significant announcement for  all at the school, the principal Brain Kenny, students and the Board of Management at Clonmore National School, and will allow the school to meet the needs of the students.
I am pictured with Pat Murray Chairperson Board of Management, Josephine Ryan (Teacher), Mary Madden (Deputy Principal), Carmel Kenny (Teacher),  Lesley Hogg (Secretary), Elaine Ryan (Teacher) and Brian Kenny (Principal)
Permanent link | Categories: