Tidy Towns
Posted by Alan Kelly on September 08, 2014 at 10:52 AM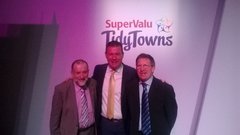 I would like to congratulate the Tipperary towns and villages who took part in this year's Tidy Towns Competition.
 I would particularly like to congratulate Gold medal winners: Birdhill Emly & Clonmel Silver Medal winner: Terryglass, Bronze Medal winners: Kilsheelan and Silvermines The County award winners: Birdhill (Tipperary North) and Emly (Tipperary South). Highly commended: Terryglass, Clonmel, Silvermines and Kilsheehan Endeavour award winners were Two-mile-Borris in north Tipperary and Kilross in Tipperary south. National winner of the Notice Nature Biodiversity Award: Cloughjordan/Scohaboy Raised Bog Restoration Project Climate Change award: Emily Tidy Towns.
I would also like to congratulate Seamus Conway from Cahir who won one of the Supervalu Tidy Towns Hero award. My congratulations to Seamus and all of the other deserving prize-winners announced today. I am very impressed by the enthusiasm of all those involved in the TidyTowns effort. The results of their efforts are obvious in the attractive, well cared-for towns and villages I see as I travel throughout the county.
It is clear that working together and getting things done increases peoples' pride in where they live and helps to build vibrant communities. This is why I am delighted to see this competition continues to sustain great interest, even after 56 years.
Permanent link | Categories: