Major Boost for Tipperary Town
Posted by Alan Kelly on August 29, 2014 at 01:54 PM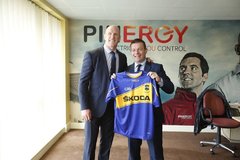 Tipperary's economy gets a boost today (Friday, August 29th) with the announcement of 46 new jobs created by Irish energy provider PINERGY in association with local sales management company DSM. The jobs will be formally announced today in DSM's Tipperary office by the company CEOs, Rugby star Paul O'Connell and myself. The new jobs are in the area of sales and come as PINERGY plans expansion across Tipperary and Limerick. PINERGY is an Irish-owned, pay as you go energy company that provides households with a 'no more bills' solution to their electricity utility with the PINERGY Smart Meter. 14 of the jobs will be based in Tipperary town with a further 32 staff who will be on the road. DSM is an Irish-owned sales management firm that provides sales, business development, sales management and brand recognition services to clients across Ireland. Environment Minister and Deputy leader of the Labour party.
This is a hugely welcome boost to Tipp town and will have a hugely positive impact on the local economy and will be greatly appreciated by the local business community. I hope other companies follow the example of PINERGY & DSM and recognise the economic potential Tipperary town has. I look forward to working with these companies in hopefully creating more employment locally as their business expands.
PINERGY CEO and Roscrea man Enda Gunnell said: "We are delighted to announce the creation of 46 new jobs today. "The creation of these new jobs shows that Irish consumers are voting to take control of their electricity costs and are choosing to say goodbye to big bills. We are confident that there will be more new jobs created as PINERGY's expansion continues.
James Edinborough, Director, DSM, said: "We are delighted to work with PINERGY on this exciting project. These sales jobs will provide the Tipperary area with some welcome employment and will ensure that Irish consumers will get a better deal when it comes to electricity.
Paul O'Connell, who is an investor in PINERGY, said: "I am delighted to be part of PINERGY. It is a young, dynamic Irish company that is providing its customers with real choice and smart solutions in the area of electricity. I'm confident that PINERGY will continue to offer a great service to Irish consumers.
Permanent link | Categories: