Contract Signed to Bring Gas to Nenagh
Posted by Alan Kelly on July 21, 2014 at 06:05 PM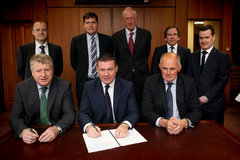 This is the largest infrastructural development for Nenagh and surrounds in 40 years
I was delighted to attend the signing of the contract for the delivery of gas to Nenagh this morning. This is a hugely significant development for the town, it is the single largest investment in Nenagh in many decades.
The plan involves an upgrade of the current East Limerick pipeline that runs to Birdhill and serves Ballina and Killaloe. The pipeline will then be extended to Nenagh with the proposal to run it along the old N7 route. The pipeline will be comprehensive covering every artery in and out of the town and every street in the town.
Gas provision will create a huge competitive advantage for Nenagh. Energy consumption and the cost of oil and other energy sources are now one of the largest, if not the largest cost concerns for businesses and employers in Nenagh. Oil has become hugely expensive and its price is constantly fluctuating. Getting gas into Nenagh will protect jobs, create many more and bring inward investment. It is estimated that natural gas will save Nenagh business and public buildings/schools in the range of €20-€30 million in energy costs in the first five years.      Nenagh will be the first town in North Tipperary to get Gas, there is potential to see it delivered to Roscrea and Thurles in the future. Investors and companies measure energy costs as one of their key variables when deciding where to invest. After the last few years of hard work by all of the Nenagh Gas Committee, it is a hugely significant day to have the contract signed.
I am thrilled to see the contract signed. Gas will be in Nenagh in the second quarter of 2015, and the whole town will be connected by Summer 2015.  I worked tirelessly to make this happen, it was the single most import project I wanted to deliver for Nenagh.   It gives Nenagh huge capacity and fantastic opportunities that it never saw before.  I would like to thank the Tipperary County Council CEO Joe McGrath, Conor Ryan CEO Arrabawn and all the members of the Nenagh Gas Committee for working with me over the last two years.
Photo: Signing the Contract I am pictured with
Front: Conor Ryan (Arrabawn), and  Aidan O'Sullivan (Gaslink)
Back: Denis Toomey (Gaslink), John Melvin (Commission for Energy Regulator), Jerry Ryan (Arrabawn), Michael O'Kelly (Arrabawn) and Eoin Sheehan (Gaslink)
Permanent link | Categories: