Good News for Roscrea
Posted by Alan Kelly on March 11, 2014 at 12:27 PM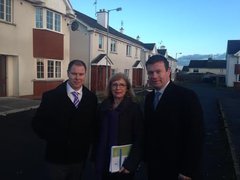 My colleague Jan O'Sullivan TD, Minister for Housing & Planning has announced that €1.1 million is to be invested in the 12 houses at Ros Na Cronan, Ashbury Roscrea. This is great news for Roscrea, with this investment; the town will see 12 extra local authority houses in the town.

I recently organised Minister Jan O'Sullivan to visit the estate with myself and local election candidate Shane Lee. This gave the Minister the opportunity to see first-hand the need for investment in the estate. Following on from her visit, I was in constant contact with Minister O'Sullivan to ensure that this funding would be delivered. I am delighted that my hard work has paid off and that the funding has been delivered.

I am pictured here with Minister Jan O'Sullivan and local election candidate Shane Lee in Ros Na Cronan recently.
Permanent link | Categories: