OFFICIAL LAUNCH OF HKPB SCIENTIFIC IN NENAGH
Posted by Alan Kelly on July 08, 2010 at 04:49 PM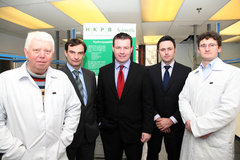 I will be officially opening the new headquarters of bio-tech company, HKPB Scientific in Nenagh, Co. Tipperary, tomorrow, Friday July 9th.
The biotechnology and innovation company will be starting commercial production of medical technologies with the potential to dramatically reduce surgical costs for patients and hospitals.

An innovative start-up company, they have developed a system for the low-cost and efficient production of certain vital bio-medical materials. 

I was delighted to be able to help source funding for HKPB Scientific and bring them to Nenagh. They along with their colleagues are exceptional business people with very exciting plans with the ambition to create up to 200 jobs. 

This is exactly the type of company that we need to be supporting and I'd like to congratulate both Enterprise Ireland and the University of Limerick on their support to date. HKPB are in a high value growth sector and I have no doubt that they will be a success and contribute hugely to the local economy.
Permanent link | Categories: Enterprise Trade & Employment • Alan Kelly MEP • Labour • North Tipperary • HKPB Scientific • employment • Nenagh • new facility • official launch • biotechnology • company • creation • Jobs