Archive for February 2, 2015
Posted on February 02, 2015 by Alan Kelly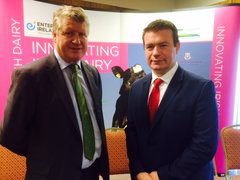 Congratulations to Arrabawn Co-op on a €35million innovation investment. This investment will help the dairy sector maximise post-quota opportunities will help support further growth at the co-op.
The overall investment will see a €25 million Dairy Processing Technology Centre (DPTC), supported by the Department of Jobs through Enterprise Ireland and the dairy industry partners including Arrabawn, at nearby University of Limerick. This will make a research and technology facility, manned by highly-skilled researchers, available to Arrabawn and the nine other co-ops to support the processors in achieving greater efficiencies.
 A further €10 million by Teagasc and the dairy industry shareholders in the expansion of the Moorepark Technology Ltd (MTL) pilot plant facility in Fermoy Co. Cork.  Both of these investments will offer significant research supports to support further growth at Arrabawn.
Permanent link | Categories:
Posted on February 02, 2015 by Alan Kelly
I can confirm that planning permission has been granted for significant works at Nenagh Hospital.  

On January 8, 2014 I announced €2.2m in funding for a new medical wing in Nenagh Hospital, planning permission has been granted for this building work.   The work will go to tender in the near future.  This is a complete new build and will contain 16 new modern single room units. No buildings will be demolished as part of this extension. There will also be a new day room added as part of the build. The project is scalable, so it can increased in size in the future if necessary and will be completed by 2015.
Permanent link | Categories: