Launch of Dive Ireland 2015
Posted by Alan Kelly on January 14, 2015 at 11:21 AM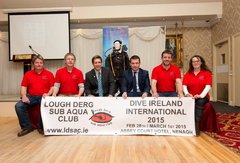 Last night I launched Dive Ireland 2015 in the Abbey Court Hotel.
It is a wonderful tribute and testament to the strength of Lough Derg Sub Aqua & Search & Rescue and the ability of its members that they successfully pitched for and were awarded the opportunity to host Dive Ireland 2015.
Allowing that there are 80 + Dive clubs in Ireland and Northern Ireland, and that their delegates and representatives will attend the A.G.M., as well as the Diving Officers and Training Of...ficers meeting, we are looking forward to 1500 / 2000 visitors over the Dive Ireland Weekend and it will be a wonderful boost to the local economy and a fantastic opportunity to show case Nenagh.
We are grateful and indebted to the club for providing services to the wider community such as
● Training to members of the public who wish to take up the sport of Scuba Diving, Snorkelling, Motor Boat handling and Search and Recovery.
● Search and Recovery of keys, moorings, anchors, lost outboards and re-floating of boats
● Underwater Survey work
● Water quality sampling
● Fish stock surveys
In particular, I want to acknowledge the Diving Officer and the Training Office of this club and every club, who give so generously of their valuable time and expertise to enhance the standard within the club so that all these services are available to the wider community.
Search and Recovery Unit
Within Lough Derg Sub Aqua Club, there is now a designated group of divers who are fully trained and insured to volunteer as designated search and recovery divers.
The Search and Recovery Unit is such a wonderful and necessary service in our community and I would like to commend the selfless commitment that the members of this Search and Recovery Team endure and risk in the hope of returning a loved one to his /her family.
These divers give so generously of their time and equipment and are on hand to tend to tragedies that may occur from time to time.
Being so close to the River Shannon and particularly Lough Derg, the club is ideally placed to assist with Search and Recovery operations and provide support to other organisations such as the Garda Underwater Unit and the Dromineer based RNLI.
Permanent link | Categories: