Archive for July 23, 2013
Posted on July 23, 2013 by Alan Kelly

Last Saturday 20th July, I organised the Nenagh N52 Walking Routes Map Launch and 6km Club Colours Walking Challenge on the N52 to raise funds for Relay for Life Tipperary.  I was delighted to be in a position as Minister to put in approximately €1.3 million in funding to walkways and cycleways across Nenagh and the N52 bypass, and it is great to see people use the facilities on a daily basis. I am very proud of the brochure which is excellently presented with lots of very informative,
relevant and useful information.
Permanent link | Categories:
Posted on July 23, 2013 by Alan Kelly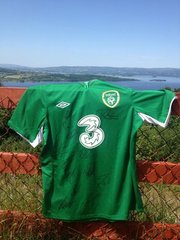 Big shout out to Eamon Donovan for his bid of €500 for the signed Irish jersey in aid of baby Jake O'Meara from Nenagh. Cheers Eamon, very much appreciate your support. Thanks also to FAI Chief Executive John Delaney for donating the jersey to me to raise funds for Jake.
Permanent link | Categories: