Blog Archive
Posted on November 01, 2016 by Alan Kelly
I confronted Minister for Health Simon Harris on the review of Mid West ambulance services that is currently being undertaken amid the possibility of the withdrawal of advanced paramedic services int he area.
Permanent link | Categories:
Posted on September 27, 2016 by Alan Kelly
I commended the performance of towns and villages around Tipperary in this years Tidy Towns competition. 
Huge congratulations to Birdhill who won Ireland's Tidiest Village Award, which was an incredible achievement.  Congratulations to Gold Medal winners: Terryglass, Birdhill, Clonmel, Killsheelan and  Emly; Silvermines who won a Silver Medal, Nenagh and Roscrea who won Bronze medals. Congruatlations to Emly who also won the Clean Air Award, and to Tommy Lonergan from Kilsheelan who won the overall Community Heroes Award
Permanent link | Categories:
Posted on June 28, 2016 by Alan Kelly
I welcome the news that the Court of Appeal has refused an application to stop the building of the new bridge Ballina-Killaloe.
This is good news for Ballina and Killaloe and the residents and business people in the area.
I announced that funding (€42 million) had been secured in the Capital Budget back in September for the proposed new bridge. I had made numerous representations to my colleague Brendan Howlin to ensure that this plan was included. This project has been a priority of mine since entering politics and it was my ambition to see it progress.  
Permanent link | Categories:
Posted on May 03, 2016 by Alan Kelly
I am delighted to confirme that following my intervention Failte Ireland has committed to opening Nenagh Tourist Office for eleven weeks.
This is good news from Failte Ireland, I used to worked there.   I am delighted that this news has been confirmed, it is very important to have a tourism office in Nenagh.  I've put a lot of time and funding into promoting Lough Derg, I will always promote Lough Derg whether I'm in politics or not. 
Permanent link | Categories:
Posted on April 28, 2016 by Alan Kelly
I can confirm today
that 8 more schools across Tipperary will be able to undertake school improvements following the announcement  of the Summer Work's Scheme.

I am delighted that these schools in Tipperary will benefit from the scheme this year. 

Of the €80 million announced for the multi-annual Summer Works Scheme (2016-2017), €30 million is now being allocated for vital gas works and electrical upgrades in schools.

The majority of works will be carried out in schools over the summer months, so as to minimise disruption to students, teachers and other school staff.
This is positive news for schools. It will also provide an important capital injection to the construction sector and boost job creation.
Permanent link | Categories:
Posted on March 04, 2016 by Alan Kelly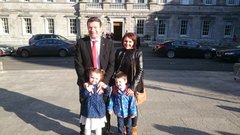 Pictured with Regina and my two children Aoibhe and Senan outside Leinster House during the first day of the 32nd Dail.
Permanent link | Categories:
Posted on January 20, 2016 by Alan Kelly
I'm absolutely thrilled to announce that First Data are establishing a research and development centre in Nenagh. This is a huge endorsement of the local area and local economy by a massive multi-national. I first met with First Data in January of last year in New York and having made the connection with IDA, accompanied them on their many inspections of the facilities in Nenagh and met with them in New York on two more occasions and many times in Dublin and Nenagh. I am delighted, having worked with both the IDA and indeed Tipperary County Council, that they have decided to establish a new facility and bring 300 jobs to Nenagh. As the local Minister, I have worked night and day over the last twelve months to ensure that First Data chose both Nenagh and Tipperary as the place to establish their research centre. I'm absolutely thrilled this day has come.
Permanent link | Categories:
Posted on January 15, 2016 by Alan Kelly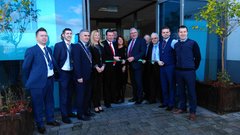 I was delighted to officially open the Eishtec site in Clonmel this morning. 200 jobs were announced for the new custom built centre last September. Eishtec provides outsourced business services such as training, data analytics and customer contact solutions.
Permanent link | Categories:
Posted on January 11, 2016 by Alan Kelly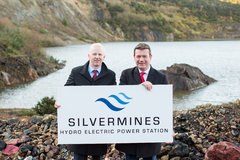 am delighted to announce plans for Ireland's most efficient electricity generation plant - a 360 megawatt, zero emission pumped storage hydroelectric power plant for the Silvermines.

This announcement is a pivotal one for Silvermines, for the wider North Tipperary area and, indeed, the country. For Silvermines it will transform the environmental mining legacy here from a negative to very muc...h a positive and trigger very significant and sustainable investment in the local community at the same time.

From a wider Tipperary perspective it will generate a huge windfall in the construction phase and, thereafter, ongoing sustainable on-site jobs.

The Silvermines Hydro Electric Power Station Project will be developed from the existing disused open-cast mining site, finally turning a negative environmental mining legacy into a positive, long term one with local and national benefits.

This project, which I have been working on with the developers for some time, will involve a total investment of €650 million in what is one of the largest ever private equity spends in the country. The overall value of benefits flowing into the national economy will exceed €2.5 Billion.

The 4/5 year construction phase alone will sustain 400 jobs, the majority of which will be locally sourced and there will be up to 50 permanent posts at the plant.

From a national perspective, it will significantly advance Ireland's transition to a low carbon economy, with 360MW of electricity generated for this renewable source five hours each day. This will be enough to supply 200,000 homes – more than three times the total number of households in Tipperary.

I have been hugely encouraged by the dynamism and energy of the team led by Darren Quinn. I now look forward to continuing to work closely with Darren and others to help bring the Silvermines Hydro Electric Power Station to fruition and finally turn the negative mining legacy here on its head.

The Silvermines Hydro Electric Power Station will generate electricity during high demand periods as water from a higher elevation reservoir is released to a lower reservoir, flowing through giant turbines in the process. It is then pumped back up to the higher reservoir during low electricity demand periods.

The brown field nature of the selected site, with already one reservoir in place in the 70m deep open-cast mine, means the Silvermines Hydro Electric Power Station can be developed and constructed with minimum impact and provide environmental enhancements, planning gain and community benefits – in addition to zero emission electricity. It also has close proximity to the national grid network, with one of its main lines just 800m away.

The facility will integrate renewable energy into the Irish electricity system, will reduce electricity production costs and play a crucial role in energy system decarbonisation.

Photo: Darren Quinn, Managing Director Siga-Hydro and myself at the site for the Power Plant in the Silvermines
Permanent link | Categories:
Posted on January 07, 2016 by Alan Kelly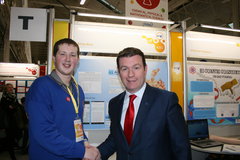 Today, I visited the BT Young Scientist & Technology Exhibition, where I saw projects from school across Tipperary. There was an incredibly high standard of local entries.
I met students from St. Joseph's College, Borrisoleigh, the CBS in Thurles, the Presentation Secondary School in Thurles, Comeragh College in Carrick on Suir, Our Lady's Secondary School, Templemore, Colaiste Phobal Roscrea and St. Mary's Secondary School, Newport,
Congratulation to all the students and teachers involved
Photo with student John Ryan from St. Joseph's College Borrisoleigh at the stand for his project Arrive Alive at BT Young Scientist & Technology Exhibition.
Permanent link | Categories: