North Tipperary Constituency
North Tipperary is quite a large constituency. In the recent electoral boundary changes it has taken it a small amount of South Offaly.
There are four electoral areas in North TIpperary. They are Nenagh/Borrisokane, Roscrea, Thurles and Nenagh/Newport. North TIpp also has part of the Cashel and Fethard electoral areas as well as a portion of South Offaly. There are three Town Councils in Nenagh, Thurles and Templemore.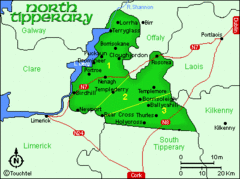 The Labour party will be standing the following candidates for these council electoral areas in 2009.
Nenagh/Borrisokane
Mayor Virginia O'Dowd is a teacher in St. Mary's Convent in Nenagh. She has been involved in numerous issues in the area, particularly tourism and community projects.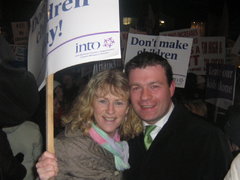 Pictured with Nenagh Mayor Virginia O'Dowd at the protest over the Government's education cuts at primary and secondary level.
Thurles
Councillor John Kennedy and Clouncillor Johnny Kenehan. John's father Martin was a Labour party Councillor for many years, so needless to say the Kennedy family have a long association with Labour. Johnny has been a Councillor for a nmber of years and is the resident of the SITU Thurles Branch.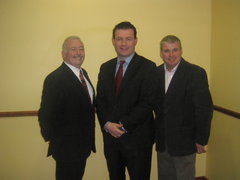 With Cllr John Kenehan and Cllr John Kennedy at the Thurles Convetion 08
Roscrea
Tommy Murphy and Des Hanna. Tommy is a landscaper and is involved in a range of local issues and campaigns in Roscrea. He has been very active in the Labour party for a number of years. Des is a businessman from Clonmore, who has been involved in soccer in the Templemore area for decades.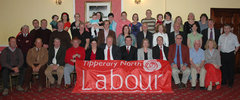 Roscrea Branch and Friends
Nenagh/Newport
Jonathan Meaney is a carpenter and lives in Portroe with his family. He is originally from Newtown and is our youngest candidate at 28 years of age and is aiming to keep our seat in this area, which is currently held by our retiring Councillor Sean Creamer.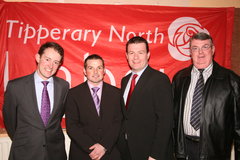 At the Newport Area Convention were Sean Sherlock TD, Jonathan Meaney (Candidate), Senator Alan Kelly and Cllr. Sean Creamer
Nenagh Town Council
Along with Mayor Virginia O'Dowd, we have Noreen Kennedy and Lalor McGee standing for the party. Both cme fro well known Nenagh families. Noreen is the secretary of the Nenagh Hospital Action Group and is very active in the community. Lalor is a porter in Nenagh Hospital and his father Milo was previosuly a Labour party town Councillor in Nenagh.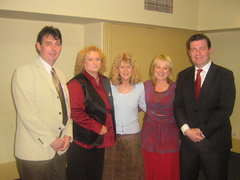 Lalor Magee, Noreen Kennedy, Mayor Virginia O'Down along with Senators Prendergast and Kelly at the Selection Covention
Thurles Town Council
John Kennedy and John Kenehan are also standing in this election
Templemore Town Council
Candidates are going to be confirmed shortly.