Alan Kelly TD
Thank you for visiting my website. I was honoured to have been given a mandate to serve the people of Tipperary and will continue to do my best to deliver at national level for all my constituents.
I am delighted to now serve as Minister of Environment, Community & Local Government, having previously been Minister of State at the Department of Transport, Tourism and Sport with special responsibility for Public and Commuter Transport.
In order to ensure that I deliver the best possible information for my constituents, I welcome any suggestions for the site. I also invite my constituents to inform me about any events coming up in your area and I will advertise it here for you.
For ministerial enquiries please contact minister@environ.ie.
Please direct all other comments, suggestions and events to office@alankelly.ie.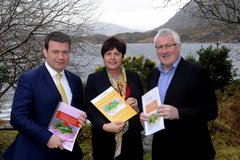 I have announced a €10.1million rural development fund for Tipperary.
The funding forms part of the Government's €250 million funding for the Leader element of the rural development programme.
LEADER funding will be used to support sustainable economic development projects for rural communities ranging from tourism, agri-food and other business activities.  These money will be targeted at tackling social inclusion, rural isolation as well as increasing the capacity of rural communities to participate in economic development. The exact nature of the projects chosen will be based on ideas that emerge from the communities themselves. An expression of interests process will begin shortly. 
Permanent link | Posted in