Alan Kelly TD
Thank you for visiting my website. I was honoured to have been given a mandate to serve the people of Tipperary and will continue to do my best to deliver at national level for all my constituents.
I am delighted to now serve as Minister of Environment, Community & Local Government, having previously been Minister of State at the Department of Transport, Tourism and Sport with special responsibility for Public and Commuter Transport.
In order to ensure that I deliver the best possible information for my constituents, I welcome any suggestions for the site. I also invite my constituents to inform me about any events coming up in your area and I will advertise it here for you.
For ministerial enquiries please contact minister@environ.ie.
Please direct all other comments, suggestions and events to office@alankelly.ie.
A brand new Primary Care Centre has been approved for Carrick on Suir this morning.
Construction on the new facility set to get underway early next year and will be completed by late 2016 or early 2017.
The new centre will be situated at Pill Road and will house GP and community nursing teams. The services will include GP Out of Hours Service, Occupational Therapy, Physiotherapy, Social Work, Speech & Language Therapy, Home Help, Dental Services, Nutritional and Dietician S...ervices, Psychology & Counselling Services, Mental Health Services and Ambulance Services.
I am delighted to confirm that Carrick on Suir is to get its own Primary Care Centre and I'm encouraged that it will be completed so soon. It means that local people will have a top-class, community-based healthcare service on their doorstep, and it is a further step towards delivering the right care in the right place at the right time.
The Centre will be open at least five days a week with extra hours at weekends and evenings for some services. The HSE will manage the centre.
Permanent link | Posted in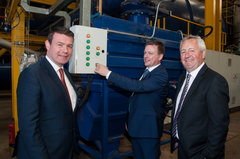 I have today announced the creation of 40 new, high grade jobs in Thurles, Co. Tipperary as part of wider plans to develop a major green energy hub in the county.
The new jobs - hiring for which will begin in Q4 of this year - will be created at Premier Green Energy (PGE), which is located on the site of the former Thurles Sugar Factory and is the brainchild of Tom Comerford from Holycross who I have been working with on this for over three years.
The jobs will involve engineering posts and be assigned to activities related to applied research for third level institutes and industrial partners arising from PGE's ongoing association with the Technology Centre for Biorefining and Bioenergy (TCBB) - an amalgam of research facilities in green energy at third level universities across the country - as well as the company's deployment of its own developed technology.
Permanent link | Posted in
I have today announced a review of the Building Control (Amendment) Regulations 2014 (S.I. No. 9 of 2014).
The new Regulations commenced in March last year and the Department is now initiating a review, as the regulations have now been operational for 12 months. The review will focus particularly on the cost burden involved for one-off houses, including self-build, and extensions to existing dwellings.
Permanent link | Posted in
I welcome the announcement last week of the sanctioning of a further 250 new Garda recruits by Minister Brendan Howlin.
A total of 550 Gardaí will have been recruited by this Government between September 2014 and 2015. This is in addition to the €27.5 million invested in new Garda vehicles between 2012 and 2014, marking a massive increase on the €4.8 million provided for in Budgets 2009-2011.
The latest 370 new Garda vehicles have come on stream since the start of this year. This announcement also comes as extremely positive news for the town of Templemore. 
Permanent link | Posted in