Alan Kelly TD
Thank you for visiting my website. I was honoured to have been given a mandate to serve the people of Tipperary and will continue to do my best to deliver for all my constituents.
I was delighted to have served as Minister of Environment, Community & Local Government, having previously been Minister of State at the Department of Transport, Tourism and Sport with special responsibility for Public and Commuter Transport.
In order to ensure that I deliver the best possible information for my constituents, I welcome any suggestions for the site. I also invite my constituents to inform me about any events coming up in your area and I will advertise it here for you.
Please direct all other comments, suggestions and events to office@alankelly.ie.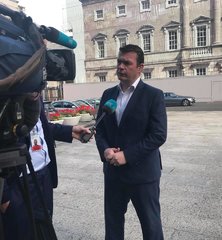 Today was busy day as the Scally Report into the Cervical Check Scandal was published. It was an emotional day too for the women and families affected. It is a comprehensive and very good report. I met and spoke with Dr Scally for over two hours. It is now critical that his recommendations are implemented immediately. There is also more work to be done to investigate why, how and when some of this happened. However, today is an important milestone. It creates a pathwa...y to help us eradicate cervical cancer as a main cancer in Ireland and to help protect future generations of both girls and boys. Tonight I'm thinking of Vicky Phelan as without her determination and courage we wouldn't have reached this milestone. I'm also thinking of Stephen Teap and Lorraine Walsh who have tirelessly worked with Vicky and Dr Scally over the last few months. These are incredible people. Some of the best people I have ever met. The country owes them a debt of gratitude.
Permanent link | Posted in