Alan Kelly TD
Thank you for visiting my website. I was honoured to have been given a mandate to serve the people of Tipperary and will continue to do my best to deliver at national level for all my constituents.
I am delighted to now serve as Minister of Environment, Community & Local Government, having previously been Minister of State at the Department of Transport, Tourism and Sport with special responsibility for Public and Commuter Transport.
In order to ensure that I deliver the best possible information for my constituents, I welcome any suggestions for the site. I also invite my constituents to inform me about any events coming up in your area and I will advertise it here for you.
Please direct all comments, suggestions and events to office@alankelly.ie.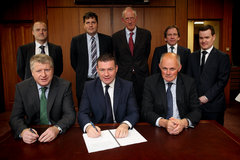 This is the largest infrastructural development for Nenagh and surrounds in 40 years
I was delighted to attend the signing of the contract for the delivery of gas to Nenagh this morning. This is a hugely significant development for the town, it is the single largest investment in Nenagh in many decades.
The plan involves an upgrade of the current East Limerick pipeline that runs to Birdhill and serves Ballina and Killaloe. The pipeline will then be extended to Nenagh with the proposal to run it along the old N7 route. The pipeline will be comprehensive covering every artery in and out of the town and every street in the town.
Permanent link | Posted in