Alan Kelly TD
Thank you for visiting my website. I was honoured to have been given a mandate to serve the people of Tipperary and will continue to do my best to deliver at national level for all my constituents.
I am delighted to now serve as Minister of Environment, Community & Local Government, having previously been Minister of State at the Department of Transport, Tourism and Sport with special responsibility for Public and Commuter Transport.
In order to ensure that I deliver the best possible information for my constituents, I welcome any suggestions for the site. I also invite my constituents to inform me about any events coming up in your area and I will advertise it here for you.
Please direct all comments, suggestions and events to office@alankelly.ie.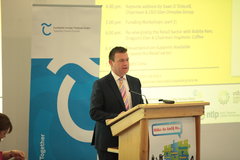 I was delighted to officially open the 'Who to Talk to' Event which was organised by Tipperary Local Enterprise Office and held in LIT Thurles. 
This event is an excellent example of collaboration and collective effort. Tipperary County Council in conjunction with Enterprise Ireland, the Education & Training Board, LIT, Local Development Companies, Teagasc and the Local Enterprise Office came together to repeat the successful 'Who To Talk To' initiative which is now in it's third year. 
The Who To Talk To event acts as a catalyst to individuals considering self employment and provide an opportunity for existing businesses to network and hear about supports and finance available.  There were over 42 information desks/stands at the event providing information and advice to those considering setting up a new business or expanding an existing business, as well as a funding workshop which featured a series of short presentations on supports from Enterprise Ireland, Bord Bia, InterTrade Ireland, Department of Social Protection, Fáilte Ireland, Microfinance, Tipperary County Council and the Local Enterprise Office.
Permanent link | Posted in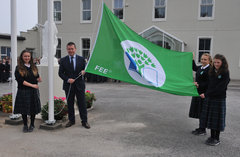 On Friday last I was delighted to visit St Anne's School in Tipperary Town where I raised a green flag. This flag was my first green flag as Minister, it was also the first Green flag for St. Anne's. This flag is not only a first for me but also the first Green flag for St. Anne's. It was great to meet the students and staff at the school.  I have know doubt that the school will be successful in its quest for more green flags.
Permanent link | Posted in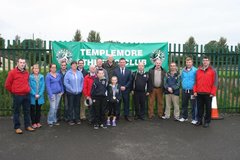 I am pictured with members of  Templemore Atheletic Club recently where I announced the allocation of €50,000 through the governments Sports Capital Grant.
Permanent link | Posted in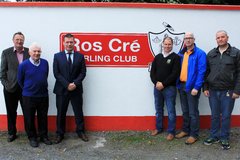 I was delighted to help Roscrea Hurling Club with their recent Sports Capital Grant application where they successfully received €45,000. I want to say well done to all and keep up the good work being done within the club. 

I am pictured here with Dan Kennedy, Michael Phelan, Shane Lee, Christopher Neville and Donald Kennedy.
Permanent link | Posted in