Alan Kelly TD
Thank you for visiting my website. I was honoured to have been given a mandate to serve the people of Tipperary and will continue to do my best to deliver at national level for all my constituents.
I am delighted to now serve as Minister of Environment, Community & Local Government, having previously been Minister of State at the Department of Transport, Tourism and Sport with special responsibility for Public and Commuter Transport.
In order to ensure that I deliver the best possible information for my constituents, I welcome any suggestions for the site. I also invite my constituents to inform me about any events coming up in your area and I will advertise it here for you.
Please direct all comments, suggestions and events to office@alankelly.ie.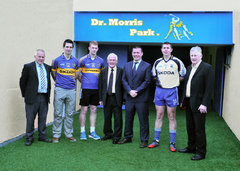 I was delighted to recently announce that Dr Morris Park, Thurles had been allocated €100,000 through the Government's regional sports capital funding programme. I have always stated my intention to help the Tipperary County Board out in any way I can and this announcement highlights my commitment. 

The county board has over seen immense work over the last few years and they deserve huge credit. I am in no doubt that this funding will help to improve the facilities of Dr Morris Park greatly and help create a center of excellence in the future for GAA in TIpperary.

I am pictured here in Thurles last week with County Treasurer Eamon Buckley, Conor O'Mahony, Michael Breen, County Chairman Sean Nugent, Darren Gleeson and County Secretary Tim Floyd.

Best of luck to the lads in the All Ireland on Sunday. Up Tipp!
Permanent link | Posted in