Alan Kelly TD
Thank you for visiting my website. I was honoured to have been given a mandate to serve the people of Tipperary and will continue to do my best to deliver at national level for all my constituents.
I am delighted to now serve as Minister of Environment, Community & Local Government, having previously been Minister of State at the Department of Transport, Tourism and Sport with special responsibility for Public and Commuter Transport.
In order to ensure that I deliver the best possible information for my constituents, I welcome any suggestions for the site. I also invite my constituents to inform me about any events coming up in your area and I will advertise it here for you.
For ministerial enquiries please contact minister@environ.ie.
Please direct all other comments, suggestions and events to office@alankelly.ie.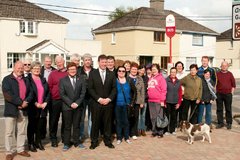 I have today announced funding for the provision of four new bus shelters for Tipperary transport users.
The villages of Bansha, Limerick Junction and Monard will see the provision of new shelters following an allocation of €80,000 for Tipperary County Council. The funding comes from a financial package secured for such shelters by myself prior to leaving the role of Minister for Public Transport. The National Transport Authority has written to Tipperary County Council informing them of the availability of funding.
I met numerous people and groups who requested the provision of such shelters for bus services going through these villages.
Having met with many community groups across these areas, they made it clear that there was a clear demand for such shelters in these areas. We also know how unreliable Irish weather is and having shelters will improve both the demand and offering for public transport users – many of whom are elderly and may no longer be able to drive.
Permanent link | Posted in
This morning I have announced €382,000 in funding for Tipperary rural water schemes. The funding has been granted to Tipperary County Council under the Department's Rural Water Programme which sets aside funding for upgrading and upkeep of group water schemes in rural areas.
22 group water schemes across the county are eligible to gain from funding under the upgrading schemes and water conservation measures while a further five schemes will see works to improve water and was...tewater quality.
The move is part of a €14 million national investment for private water schemes throughout the country. Group water schemes are private schemes where homeowners pay for their water supply. Many have been established in rural areas where water provision would not be economical for the public supply. The group schemes will now sit down with Tipperary county council and decide the works for the years ahead.
Permanent link | Posted in
I have announced the approval of over €7 million worth of public house building for County Tipperary.  The news will create an estimated 70 jobs throughout the county and is part of the first phase of housing investment for the county which will see approximately €57 million invested in various housing supports for Tipperary. The Department of Environment are currently assessing a number of building projects submitted from Tipperary County Council with further investment expected to be announced later in the year. The move is part of a construction kick-off where I announced the commencement of over 100 social housing projects throughout the country.
Clonmel will see the largest building boost with 20 houses approved at a council owned site on the Glencannor Road which will commence subject to planning approval, Cashel will also see 10 units built at Wallers Lot, Cashel with further projects in Cloughjordan, Thurles, Templemore and Gortnahoe. Funding was previously announced for
Permanent link | Posted in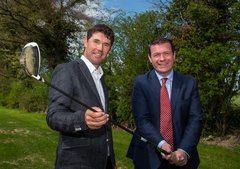 On Thursday last I launched the €3.7million Sportslab for LIT Tipperary.   The new centre at the Thurles campus is set to become an international centre of excellence in sports strength and conditioning.
Through a combination of high-tech equipment and lecture staff expertise, the facility will be the most elite centre in Ireland for sports strength and conditioning, catering for 500 under and post graduate students each year.
In the strictest sense, sport really is big business today and strength and conditioning has become hugely important in terms of preparation and injury risk assessment and recovery. It is opening up a range of new employment opportunities and the standard of training/education here, not least arising from the expertise of the lecturers, will see 100 plus students each year emerging from these courses with real employment prospects here in Ireland and internationally.
Permanent link | Posted in