Alan Kelly TD
Thank you for visiting my website. I was honoured to have been given a mandate to serve the people of Tipperary and will continue to do my best to deliver at national level for all my constituents.
I am delighted to now serve as Minister of Environment, Community & Local Government, having previously been Minister of State at the Department of Transport, Tourism and Sport with special responsibility for Public and Commuter Transport.
In order to ensure that I deliver the best possible information for my constituents, I welcome any suggestions for the site. I also invite my constituents to inform me about any events coming up in your area and I will advertise it here for you.
For ministerial enquiries please contact minister@environ.ie.
Please direct all other comments, suggestions and events to office@alankelly.ie.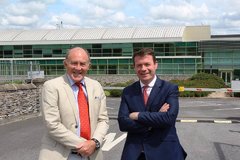 Good news this morning with the announcement of up to 300 jobs in Cashel. World-leading pharmaceutical company, Amneal, have today announced the creation of between 250-300 jobs.
The company has purchased the old Cordis Site in Cashel which has been vacant since 2011. The news follows confirmation of the sale of the site by Solidus.
...
Having met with Solidus on several occasions and assisted in the completion of the sale, I am delighted that this day has come. Tipperary has a huge deal to offer multinational companies like Amneal and I look forward to assisting them as they set up their Cashel site. Access to talent and good infrastructure are vital for investments of this size – Amneal will find both here in Tipperary.
Permanent link | Posted in
Having been in touch with the CEO of the Courts Service, Brendan Ryan, he informed me that the Courts Senior Management Team have agreed to the implementation of the key recommendations within the Report on the Review of Court Services in Co. Tipperary. This is extremely positive news for all of Tipperary and follows consistent representations by myself at the most senior level.
The key recommendations to be implemented are;
Permanent link | Posted in
I have announced major reforms to the Building Regulations that will slash costs and reduce red tape for people who want to self-build their homes.
Under the reforms, people building single dwellings or extensions will be given the choice of opting out of statutory certification and may instead show by alternative means that they have met their general obligation to build in accordance with the minimum requirements of the building regulations. Additional guidance, including a... Sample Preliminary Inspection Plan, will be published to assist with this process.
The reforms will broaden the pool of people who may certify building works for building control purposes. In other changes, a new fit-for purpose local authority inspection process will be developed to ensure that building standards do not slip in respect of these types of builds and, for the first time, local authorities themselves will be covered by the regulations.
Permanent link | Posted in
 I am delighted to confirm that a total of €2,939,731 had been allocated to Tipperary.
Energy Communities Tipperary Cooperative Ltd received €1,433,661. This project is a collaboration of eight communities within Tipperary coming together as a community run co-operative to carry out deep retrofits on 200 homes (Drombane, Kilcommmon, Lorha, Birdhill, Borrisokane, Loughmore, Cloughjordan, Riverstown and Carrig) and 2 community buildings. Measures include roof insulation, cavity and external wall insulation, full window replacement, high efficiency boilers with integrated controls, solar water heating installation, solid fuel room heater, electricity energy monitor, efficient lighting and chimney draught limiter. The key aim of the project is to increase user comfort, reduce energy usage within homes and communities, and to generate local employment.
Permanent link | Posted in