Alan Kelly TD
Thank you for visiting my website. I was honoured to have been given a mandate to serve the people of Tipperary and will continue to do my best to deliver at national level for all my constituents.
I am delighted to now serve as Minister of Environment, Community & Local Government, having previously been Minister of State at the Department of Transport, Tourism and Sport with special responsibility for Public and Commuter Transport.
In order to ensure that I deliver the best possible information for my constituents, I welcome any suggestions for the site. I also invite my constituents to inform me about any events coming up in your area and I will advertise it here for you.
For ministerial enquiries please contact minister@environ.ie.
Please direct all other comments, suggestions and events to office@alankelly.ie.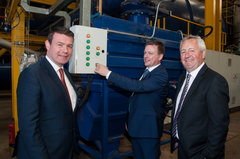 I have today announced the creation of 40 new, high grade jobs in Thurles, Co. Tipperary as part of wider plans to develop a major green energy hub in the county.
The new jobs - hiring for which will begin in Q4 of this year - will be created at Premier Green Energy (PGE), which is located on the site of the former Thurles Sugar Factory and is the brainchild of Tom Comerford from Holycross who I have been working with on this for over three years.
The jobs will involve engineering posts and be assigned to activities related to applied research for third level institutes and industrial partners arising from PGE's ongoing association with the Technology Centre for Biorefining and Bioenergy (TCBB) - an amalgam of research facilities in green energy at third level universities across the country - as well as the company's deployment of its own developed technology.
Permanent link | Posted in