Alan Kelly TD
Thank you for visiting my website. I was honoured to have been given a mandate to serve the people of North Tipperary and will continue to do my best to deliver at national level for all my constituents. I am delighted to now serve as Minister of State at the Department of Transport, Tourism and Sport with special responsibility for Public and Commuter Transport.
In order to ensure that I deliver the best possible information for my constituents, I welcome any suggestions for the site. I also invite my constituents to inform me about any events coming up in your area and I will advertise it here for you.
Please direct all comments, suggestions and events to press@alankelly.ie.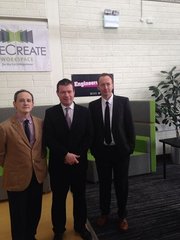 Friday morning last, I was pleased to open Ireland's first 'Fab Lab' in Cloughjordan. It's called 'We Create' and is basically an enterprise centre for SMEs and entrepreneurs. Key difference is that it offers its clients access to state of the art dig
...
ital fabrication equipment such as 3D scanners etc. Such equipment is quite expensive and not available to everyone so it's provision here gives capacity for SMEs and entrepreneurs to deliver products and technologies that they otherwise may never get a chance to. Its a co-operative in nature in much of its work but has the capacity to deliver hugely for all those who use it. Well done to Anthony Kelly and Ben Whelan who created the 'Fab Lab' and also to Leader, North Tipp Enterprise Board and the county council for their support.
See More
Permanent link | Posted in